Research Activities
Team Research
At Nichibunken, researchers from different countries and regions as well as in various disciplines team up for interdisciplinary, i nternational, and comprehensive research on Japanese society and culture. In our collaborative research project, we have sought to liberate the study of Japan from a single nation framework, and reappraise its history, society and culture from a distinctly multi cultural, multi dimensional perspective. Such is the trajectory of our international Japan research.

Their work, while grounded in the basic scholarship of each discipline, pursues topics that tended to be marginalized previously and explores relati onships and mutual influences between Japan and other areas from global perspectives, thereby aiming to open up the frontiers of solid yet innovative research in the humanities.

Reflecting Nichibunken's ideals, objective third party evaluation has been introduced to verify not only the interdisciplinarity and internationality but also the originality, the pioneering qualities, t he scholarly significance, and the academic value of the research.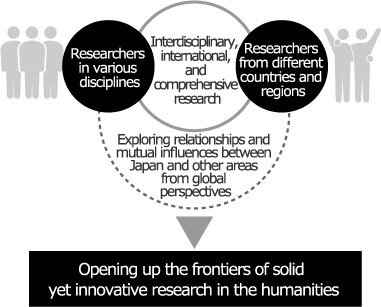 Three Units of Nichibunken Team Research
Perspectives on Nature/Perspectives on Humanity
A "common humanities science" research model that aims for flexible collaboration between the two disciplines of the humanities and the sciences.
Power and Culture
Research that explores not only phases of merging and of mixing culture in times and spaces of divergence, but also the power relat ions and public aspects that inhere therein.
Developing Research into Popular Culture
Research that examines popular culture from chronological and transnational perspectives.
Team Research
Nichibunken's NIHU Transdisciplinary Projects
Projects are classified as: (I) Institute-based projects, (II) Multidisciplinary collaborative projects, and (III) Network-based projects. Research results are made widely available to the academic community and the public at large through publications, databases, films, exhibitions, and the like. They are planned in such a way as to make them useful for new university-level educational programs.
Nichibunken's NIHU Transdisciplinary Projects
■

Past projects under the Third Mid-Term Plan (FY2016–2021)

NIHU Transdisciplinary Projects
Nichibunken Research Projects
International Research Center for Japanese Studies Research Projects (Nichibunken Projects) fall into three categories: (1) projects conducted in accordance with Nichibunken's founding purposes or its mid-term objectives and plans; (2) projects conducted either as part of NIHU inter-institutional research projects or as projects related mainly to international collaborative research on Japan-related documents and artifacts overseas; and (3) projects carried out with funds from outside sources (Grants-in-Aid for Scientific Research, revenue for commissioned activities, and donations).
Nichibunken Research Projects
Theory and Methodology Seminars
The purpose of these seminars is to share various skills necessary for researchers engaged in the study of Japanese culture. Examples of such skills are reading and deciphering historical manuscripts, proficiency in other languages, analysis of visual materials, familiarity with cultural theory, and so on.
Theory and Methodology Seminars