Prange Collection

About the Prange Collection
The collection consists of all the publications (books, periodicals, pamphlets, newspapers), documents, posters, etc. that were censored during the 1945-1952 Allied occupation of Japan, especially from 1945 to 1949. Gordon W. Prange, formerly professor at the University of Maryland, who was working in the Civil Censorship Detachment (CCD) of the Supreme Commander of the Allied Powers, noted the historical value of the censored materials and collected and preserved all of them in their original state at a U.S. government agency. The collection was donated to the University of Maryland in accordance with his wishes, and is housed in the university's McKeldin Library. These valuable materials help fill in blanks in history prior to the opening of the Japanese National Diet Library in June 1948.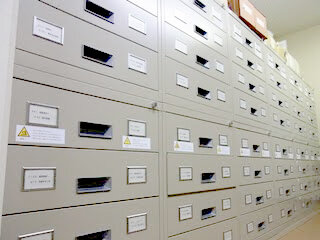 Microform in the Collection of Nichibunken
The Nichibunken Library houses microform for the entire "Collection of Periodicals" and "Collection of Newspapers."
Collection of Periodicals
A total of 13,743 titles (62,976 microfiche) in the genres of politics, law, administration; economy; society and labor; war (repatriation, overseas territories, demobilization); education; history and geography; philosophy and religion; art, language, sports, entertainment; science and technology; periodicals, library; general scholarly journals; general magazines; children's magazines.
Collection of Newspapers
Besides the leading Japanese newspapers and records of their censorship during the occupation, there is also a vast collection of the largely unknown newspapers that sprang up after the war and newspapers published by young men's associations, civic groups, labor unions, community centers, and political organizations. A total of 18,047 titles (3,826 microreels).
How to Use
Apply in advance.
Please download and fill in the designated application form and send it in by e-mail (scan and send as attached document) or fax at least one week before the preferred date of visit. Applications should be limited to the quantity that can be read during the period of the approved visit. Applicants will be notified as soon as possible.
See the following databases for reference.
Contact Us
International Research Center for Japanese Studies
Library Services Unit (Shiryo Riyo Kakari)
3-2 Goryo-Oeyamacho, Nishikyo-ku, Kyoto 610-1192 JAPAN
Tel: +81-75-335-2066
Fax: +81-75-335-2093
E-mail: riyou@nichibun.ac.jp