Organization
(As of April 1, 2023)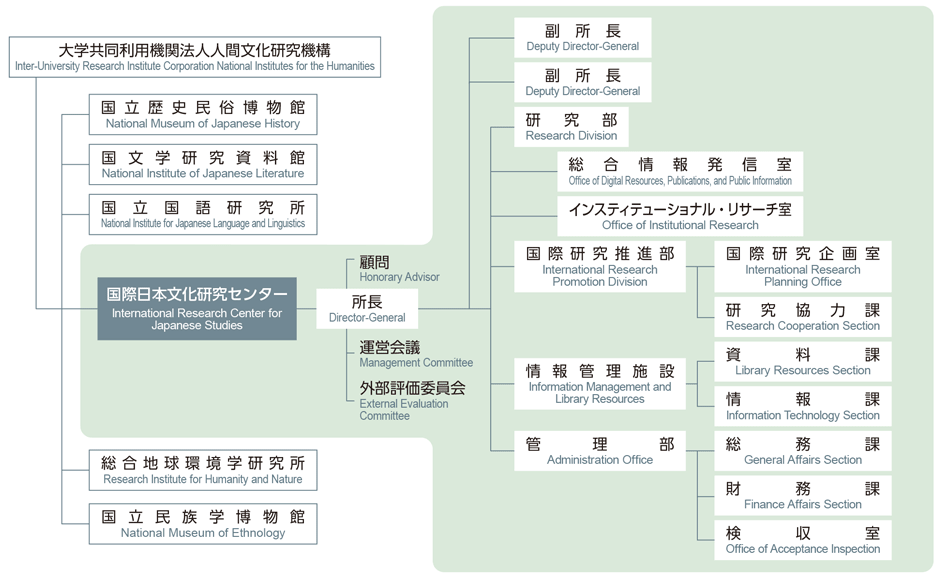 Executive Officers
(As of April 1, 2023)
| | |
| --- | --- |
| Director-General | INOUE Shōichi |
| Deputy Director-General | Frederik CRYNS |
| Deputy Director-General | MATSUDA Toshihiko |
| International Research Promotion Division, Head | Timon SCREECH |
| Senior Research Coordinator | USHIMURA Kei |
| Senior Research Coordinator | TAKII Kazuhiro |
| Head of Information Management and Library Resources | SEKINO Tatsuki |
| General Manager of Administration office | SATOMI Akihiko |
Management Committee
(As of April 1, 2023)
AOKI Jun
Professor, Department of Architecture, Faculty of Fine Arts, Tokyo University of the Arts
Director, Kyoto City KYOCERA Museum of Art
AKAMATSU Tamame
President, Kyoto City University of Arts
KINSUI Satoshi
Director, Osaka Study Center, The Open University of Japan
Bettina GRAMLICH-OKA
Professor, Faculty of Liberal Arts & Graduate School of Global Studies, Sophia University
KŌNO Yasuko
Professor Emeritus, Hosei University
TAKAGI Hiroshi
Professor, Institute for Research in Humanities, Kyoto University
TAKEMIYA Keiko
Professor Emeritus, Kyoto Seika University
TOEDA Hirokazu
Director, The Waseda International House of Literature(The Haruki Murakami Library)
Professor, Faculty of Letters, Arts and Sciences, Waseda University
HONGŌ Keiko
Director, Historiographical Institute The University of Tokyo
MATSUBARA Ryūichiro
Professor, The Open University of Japan
MITANI Hiroshi
Professor Emeritus, The University of Tokyo
ARAKI Hiroshi
Professor, Nichibunken
ISODA Michifumi
Professor, Nichibunken
USHIMURA Kei
Professor, Nichibunken
KUSUNOKI Ayako
Professor, Nichibunken
Frederik CRYNS
Deputy Director-General, Professor, Nichibunken
SEKINO Tatsuki
Professor, Nichibunken
Timon SCREECH
Professor, Nichibunken
TAKII Kazuhiro
Professor, Nichibunken
MATSUDA Toshihiko
Deputy Director-General, Professor, Nichibunken
LIU Jianhui
Professor, Nichibunken
International Research Planning Office
This office was established for the following purposes:
Conducting the Center's international research exchange
Establishing and managing communication between scholars from Japan and abroad
Planning and coordinating projects related to the Consortium for Global Japanese Studies and NIHU Transdisciplinary Projects (Institute-based projects)
Office of Digital Resources, Publications, and Public Information
This office oversees the multiple functions of digitalizing documents, publishing and editing, as well as public relations. The office also drafts plans and proposals, and conducts surveys, in order to facilitate information dissemination.
Office of Institutional Research
This office gathers and analyzes information on research, educational, and other activities at Nichibunken and supports planning, proposals, and decision-making for the enhancement of organizational management.